Wild Painting!
Create With Abandon

(Sunday, December 6, 2 to 4 pm, Holliston)
Go At Life With Abandon; Give it all you've got. And life will give all it has to you."   ~ Norman Vincent Peale
Give YOURSELF the gifts of FUN and RELAXATION before the holiday madness begins. Leave re-energized, ready to face the crowds, the stores, the traffic, the long lines. Open to painters and non-painters alike. No drawing skills required.
Wild Painting! invites you to create artwork from your own mind, body and soul. You'll be encouraged to rely on your own previous memory bank and your inner kaleidoscope of yet-to-be imagined things. Your paintings will be perfectly imperfect because you did it from a place of inner knowing. You'll leave a more uninhibited artist and person. This adventure will be messy, marvelous and mysterious. This isn't a paint night, where you will paint the same painting as everyone else. At Wild Painting, you paint what your inner wild creature wants to paint. It will be unique and represent you!
Want to paint-explore with us? Consider bringing friends & turn it into a party! All supplies included. Just bring your wonder.full self.
Check out my latest Wild Painting. Inspired by my trip to Africa in 2014. Called "Contemplation in Color." It was created using the Wild Painting! process. I had no idea what the painting would be when I started …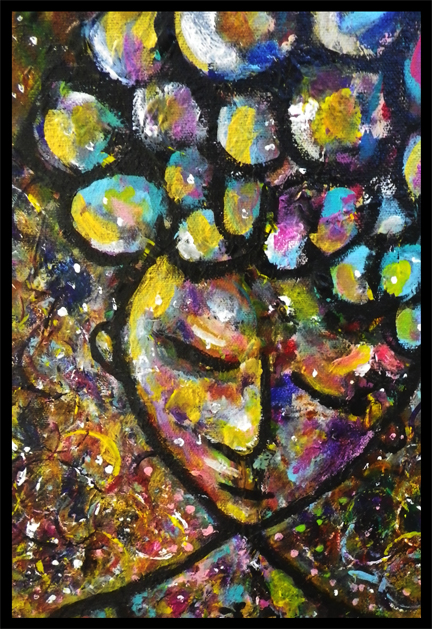 This adventure will be messy, marvelous and mysterious. Want to paint-explore with us? All supplies are included. Nothing to buy. Just show up and start creating. Leave with as many as THREE paintings! Light snacks will be provided! Please check out the two different times to choose from and place below:
Place:  Cheryl Cohen's Mosaic Studio, 360 Woodland Road, Holliston. (Off Route 16)
Date:  Sunday, December 6th, 2 to 4:00 pm
Cost:  For new Giulietta the Muse participants, $54. Return Participants, Senior Citizens 65 and up and wild folks who sign up with a friend: $49. And for those who sign up with 2 friends or more, $45!!!
Seating: Please register if this is a "hell, yes!"
Attitude: Carefree, liberating, daring
Info:  508.380.8799 or giulietta@giuliettathemuse.com
Special Note: If you want to bring your own paints, please let me know and I will send you an invoice for $39.
Want to get wild with us? Bring a few friends to make it even more wild and fun.
I've been running creative life shops since 2004. Would love for you to join us! Please read the words of praise below from artists of all levels who took the most recent offering of Wild Painting!
"Well ~ you did it again Giulietta!  In the midst of a crazy Saturday, rushing from one chore to another, I kept reminding myself to make sure I made it to my 'Wild Painting' class on time!  I honestly had no idea what to expect and my head was so full of things I needed to cross off my list that I barely gave a thought to the class until I took off my coat, sat down and looked at all of the beautiful paints and glitter!  Two and a half hours later, my head was full of swirls and color and feathers and c.r.e.a.t.i.v.i.t.y!!!  Thank you for once again making my world stop and injecting into my experience a little bit of magic and a whole lot of self-discovery!!  You are truly life's muse!!!"
Eleanor Uddo
Creative Soul, Painter and Lawyer
http://www.elderlaw.com/
"In Giulietta's Wild Painting class I slapped paint down on paper without thinking too much. I just did the first thing that came to mind and worked very fast without judgment. I think this exercise released some fears that held me back and has sparked more spontaneity in my work. The next day I woke up elated and that mood lasted all day."
Janis Luedke
Interior Designer and Painter
http://jalarts.com
"I really enjoyed Giulietta's Wild Painting workshop! She started us off with an inspiring writing prompt to get us going in our visioning process. Giulietta brought a variety of colorful materials to try. Each artist was able to work in their own way, whether experienced or not, with Giulietta's encouragement to loosen up and let it out!  It was cool to see everyone's artwork displayed together at the end, because each piece reflected a unique style."
Andrea Green, Art Teacher and Artist
http://www.startinglinestudio.com/
"I haven't had this much fun with paint in years! Wild Painting gave me permission to simply show up, play freely and get bold with color. Thank you Giulietta, for the frequent refills of clean water in my paintbrush cup! I appreciate the wonderful take-away printout of useful tips, warm-up exercises & resources too. Thank you also to Cheryl Cohen, for providing the inspiring art studio space!"
Mary Starr Green, Yoga Teacher
http://www.marystarrgreen.com/
More on the painting adventure and me!:
My creativity classes are lots of fun and filled with encouragement, insights and transformation.
Participants leave feeling more wild and disobedient!
I've been painting since 2000, first with oil and now with watercolor or acrylic.
Really hit my stride with watercolor because the medium "begs" me to not "control it." Now I love acrylic because I can add layer after layer until the painting is ready to reveal itself.
Another chance to join us!