Monday, August 7, 5 to 7 pm, Holliston
Get Over Your Painting Fears:
Be a brave, bold and badass artist.
"You must do the thing, you think you cannot do." ~ Eleanor Roosevelt.
Do you admire paintings of faces, human figures, animals or imaginary scenes and wish you could do that?
Do you find yourself painting landscapes, pots of flowers or the obligatory still-life because you're secretly terrified you can't paint anything else?
Do you long to pick up a paintbrush but don't dare because some adult told you way back in elementary school that you don't have an artistic bone in your body?
If so,  you may want to join a small group of new and experienced painters for the bold, brave and badass  "Get Over Your Painting Fears!"
In this liberating two-hour program, you will paint whatever scares the creative crap out of you.
I used to have some irrational fears about painting faces or bodies or animals. One day, tired of my own fear, I invented a way to confront those anatomical fears. I will be passing that way along to you.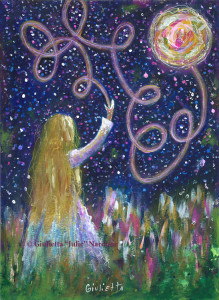 That artistic freedom opened up for me a new life and business path. Now I can paint most anything my "untamed artist" wishes to create.
All supplies are included to make it easy for you. Just show up ready to paint away your fears. Light refreshments served. We'd love to have your bold (or ready to be bold) personality join us …
Limit: 8
Place: Cheryl Cohen's Mosaic Art Center in Holliston
Date: Monday, August 7
Time: 5 to 7 pm
Mood: Wonder Woman-ish
Cost: $54/$49
I've been painting for 17 years, experimented with oil, watercolor, acrylic and mixed media. It's all fun, but I find acrylic and markers work the best with my exploratory artistic style. Sometimes I don't know what I intend to paint. I may start out painting X and even "think" I have finished X. Months or even years later, I might paint Y over X with some of X showing through. It can take awhile for a painting to be fully born. When it is truly done, I know it, because it feels right. I've been offering get over your fear type programs since 2004.