Fantasy Art For Girls 8 to 14:
Painting Dreamy Mermaids & Sparkling Fairies
Wednesday, August 23, 10 am to 1:45 pm
Does your daughter love to draw and paint mermaids and fairies or want to learn how? Does she want to bring these whimsical creatures  to life? Make them more beautiful, fanciful and alive?
In this magical close to 4-hour program, your daughter will enhance her fantasy drawing and painting skills in the following ways by learning to:
Express movement
Determine body proportion
Craft faces
Design wings and tails
Dive into color
Imagine environment
Embrace personal artistic style
Young artists are encouraged to find their own style and artistic voice. Your daughter will leave with at least two "unique" fantasy paintings and, hopefully, with some new friendships. All supplies included. You just need to drop her off with a beverage, a bag lunch, a smock and a magical attitude. My latest painting "spellbound" is below.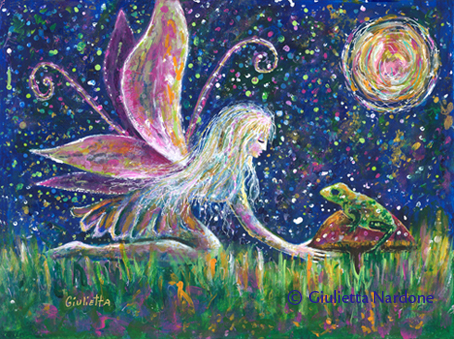 Place:  Cheryl Cohen's Mosaic Art Center, 360 Woodland Road, Holliston. (Off Route 16)
Ages: 8 to 14
Date: Wednesday, August 22, 10 am to 1:45 pm
Cost:  $69. For those who are repeat Giulietta the Muse clients, or who sign up with a sibling or friend, $65 each.
Seating: Limited to 8.
Attitude: Fun, inspiring and whimsical.
Info/Register:  508.380.8799 or giulietta@giuliettathemuse.com